Holmes and Company, LLC.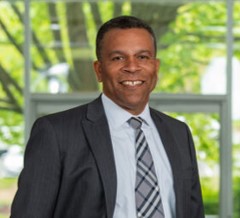 Charles Holmes
CPA, CITP, CFF and Managing Partner
Charles Holmes is the CEO/President of Holmes & Company, an accounting and consulting firm certified as an 8(a) Minority Business Enterprise (MBE)and a Small Disadvantaged Business Enterprise (SDBE) based in Cherry Hill, New Jersey.  The firm's familiarity with federal, state and municipal government organizations is the foundation of an integrated approach to providing audit, compliance and consulting services.  Holmes has built a reputation for working closely with all levels of government and delivering professional services that provide transparency to meet regulatory and reporting requirements.
He has more than 30 years' experience in audit and business advisory services, involving compliance audits, cost recovery audits, and audits of internal control environments. Charles has served as Project Manager under the Federal Transit Administration (FTA)'s Financial Management Oversight (FMO) program, which involved internal control audits of financial management systems and reviews of National Transit Database (NTD) Reporting at transit agencies. Some of these agencies were as follows: New York City Transit, SEPTA, MET Council of Minnesota, Metropolitan Bus Authority of San Juan, Greater Cleveland Regional Transit Authority, City of Albuquerque, New Mexico (ABQ Ride), among others.
Charles is currently providing technical assistance to the Puerto Rico Department of Housing and the St. Thomas Public Housing Finance Agency of the US Virgin Islands in their rebuilding effort from Hurricanes under the HUD CDBG-DR program. Specifically, he is leading the firm's effort in developing Cost Allocation Plans and Indirect Cost Rate proposals for the agencies.